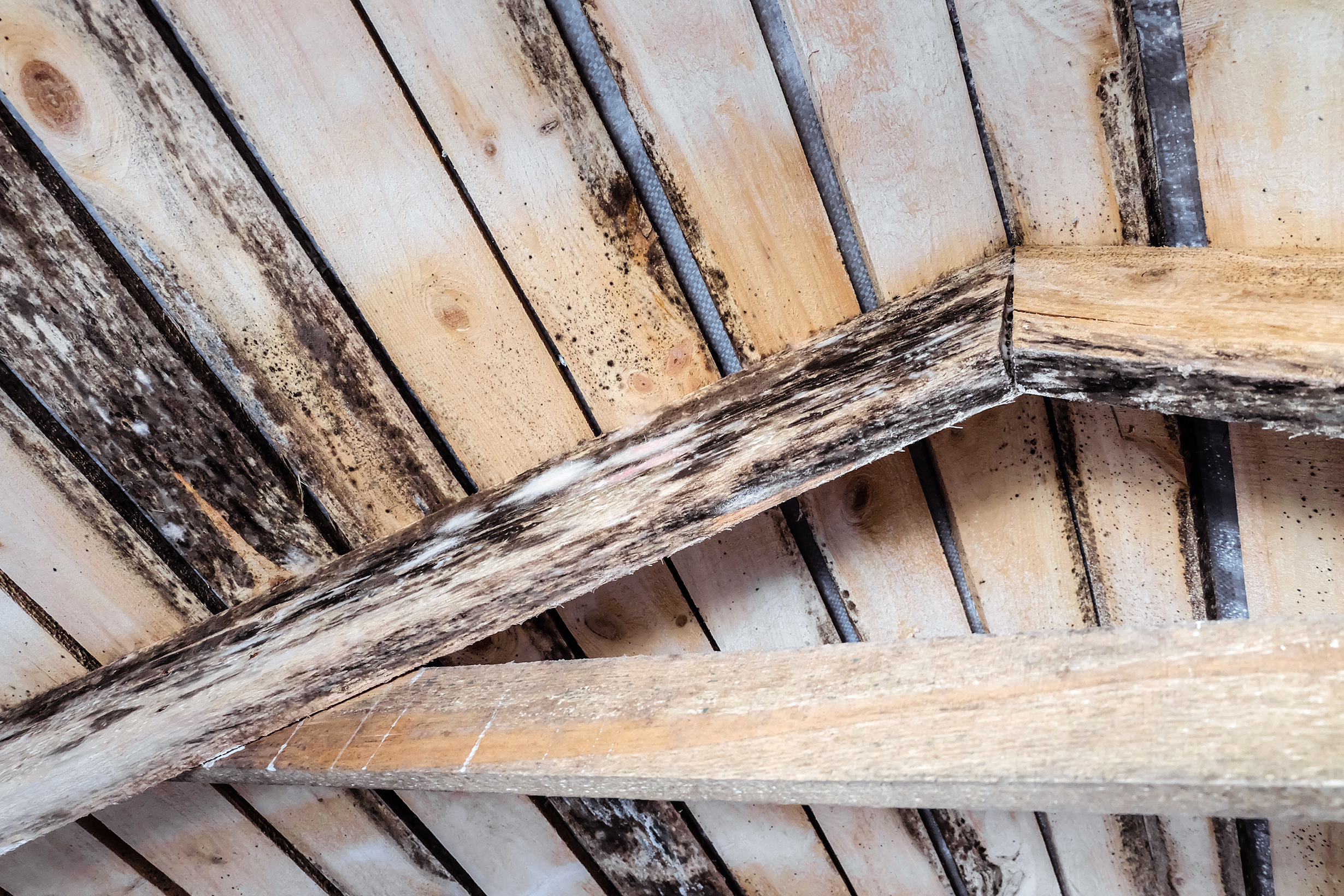 Removing Mold, Restoring Health
The sight of mold in your home or business can be alarming. Even with moist conditions that many properties throughout Oklahoma might face, the presence of microbial colonies is a serious matter. Untrained and uncertified individuals should refrain from attempting large-scale mold removal, as many health and safety threats exist with improperly cleaning and disposing of mold-damaged surfaces. We service the areas of Oklahoma City, Edmond, Moore, Norman, Shawnee, and Yukon, Oklahoma.
 From Cleanup to Mitigation
Steps of Mold Remediation for Your Home or Business
There is a reason that experienced BISON Restoration Services  professionals in Oklahoma and the OKC area address mold growth. Expert remediation specialists on our roster understand the severity of the situation and how fast spores can spread. We carefully prevent cross-contamination throughout your home, using the most effective personal protective equipment, respiration masks, and containment materials. 
Our remediation specialists thoroughly assess the property to determine the extent of the mold damage and find the best way to remediate impacted surfaces and contents. When necessary, we work with your insurance company to meet their documentation requirements for damage claim approval.
Sometimes, remediation efforts must focus solely on moving contents that face potential risk to a safer area of a home or business. In other situations, our BISON team provides specialized item cleaning, offering on-site decontamination in a staging area, in addition to our off-site facility nearby, where your belongings can be safely stored until remediation completes.
Wet and moldy porous materials are removed and discarded. Our BISON professionals carefully remove materials and impacted contents to prevent cross-contamination with other structure areas.
Remediation happens in several stages. Our BISON team uses varying approaches, determined by the severity of the infestation. Surface cleaning is preferred, meaning we use sporicidal agents or antimicrobial products to eliminate spores on a hosting material's surface. More aggressive measures can be necessary, such as media blasting, which we come prepared to implement.. 
Wet materials are a breeding ground for microbial threats, so effective drying must be a priority. Similar to dealing with water damage, air movers and dehumidifiers play the most significant role in our removal of moisture. We have a plethora of advanced drying tools, allowing our BISON Restoration Services professionals to regulate damp areas efficiently and effectively.
Using effective neutralizing agents dispersed with thermal foggers, or UV cleaning equipment with HEPA filtration, we can overcome malodors connected to mold development. However, volatile organic compounds are a byproduct of microbial growth, and these odors can continue to linger on the property after remediation completes.
BISON Restoration Provides Long-Term Solutions
With the BISON President licensed as a general contractor, our team understands what Oklahoma properties need in order to fully overcome mold growth. We provide fast repairs and complete reconstruction solutions to better manage moisture concerns that might lead to future mold development. Our experience with water damage repairs and moisture management provides long-term recovery solutions for your bathroom, basement, crawlspace, and attic.
When you suspect mold is growing in your home or business, you have no time to waste to resolve the situation. BISON Restoration Services has experienced remediation specialists to overcome mold growth on your property and help keep it gone. We are with you every step of the way, starting with a phone call to complete your initial mold inspection. Mold removal for Oklahoma City, Edmond, Moore, Norman, Shawnee, and Yukon.